Episodes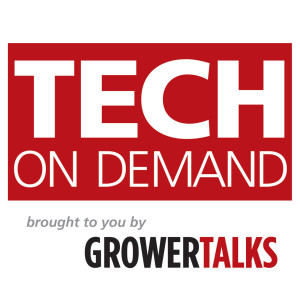 Wednesday Feb 16, 2022
Wednesday Feb 16, 2022
In this episode of Tech On Demand brought to you by GrowerTalks, host Bill Calkins is joined by Dr. Ann Chase, owner of Chase Agricultural Consulting, and Dr. Aaron Palmateer, technical development lead for the ornamental business at SePRO. Both are expert-level plant disease gurus with decades of combined work in the field. The episode kicks off with a discussion about the top diseases to watch for in the coming year, including a deep dive into Botrytis and downy mildew. The guests discuss why innovation in disease control products is driving research and why this benefits growers around the world. Ann and Aaron then dive into bacterial diseases such as pectobacteria and agrobacteria and why diseases with latent or asymptomatic expression can be a particular nightmare. They also touch on less-devastating diseases and how to control them.
Next, Ann and Aaron tackle viruses, including TSWV, INSV and tospoviruses. It's incredibly challenging to diagnose viruses, because they show such a range of symptoms, so our guests spend plenty of time discussing the importance of early recognition. The podcast wraps up with solutions, and a rundown of current products on the market. New premixes, new FRAC codes, biopesticides and biofungicides and broad-spectrum products are all on the table these days. Ann and Aaron are leading the way in research to help you understand and apply these new products.
Resources:
Dr. Ann Chase: archase@chaseresearch.net
Dr. Aaron Palmateer: aaronp@sepro.com
Chase Horticultural Research: www.chaseagri.com
SePRO: https://www.sepro.com/Hort
BE SURE TO SUBSCRIBE TO THE TECH ON DEMAND PODCAST ON ANY MAJOR PODCAST APP SO YOU NEVER MISS AN EPISODE!