Episodes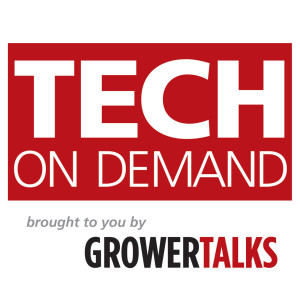 Tuesday Mar 09, 2021
Tuesday Mar 09, 2021
Tech On Demand: Don't Sell Yourself Short!
In this episode of Tech On Demand brought to you by GrowerTalks, host Bill Calkins is joined by Bryce Anderson, sales manager for The HC Companies. Bryce is a 28-year industry veteran with experience from greenhouse production and distribution to retail and even manufacturing. He's been a head grower and production manager, as well as garden center manager. He also brings experience in sales and operation management. He says his skills have evolved over the years to include water, media, nutrition management and he has a particular focus on crop quality. It's this comprehensive understanding of the industry that makes him perfect for our discussion today - Are Growers Selling Themselves Short? The Struggle to Balance Price with Value.
In this entertaining conversation, Bryce and Bill discuss what they've seen over the years that makes this topic of particular importance, while bringing an understanding of the realities of greenhouse production and market dynamics to the table. Bryce talks a lot about the myth and reality of consumer price sensitivity, market competition and what factors into a fear of raising prices. He touches on the importance of knowing your market and your costs, as well as his thoughts on what it takes to be profitable. Stick around all the way to the end for a timely and relevant conversation about the current market, post-pandemic, and how critical it is to capitalize now to hook a new generation and set of customers. You're going to love this episode!
Resources:
Learn more about The HC Companies and their range of industry-leading horticultural containers: https://hc-companies.com
Continue the conversation with Bryce Anderson via email: banderson@hc-companies.com
Visit the GrowerTalks Magazine Website: https://www.growertalks.com/
BE SURE TO SUBSCRIBE TO THE TECH ON DEMAND PODCAST ON ANY MAJOR PODCAST PLAYER SO YOU NEVER MISS AN EPISODE – iTunes, Spotify, Google, Stitcher and more.