Episodes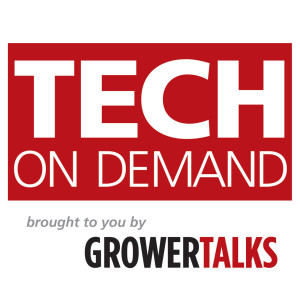 Tuesday Mar 16, 2021
Tuesday Mar 16, 2021
Tech On Demand: Product Differentiation is Critical to Your Value Proposition
In this episode of Tech On Demand brought to you by GrowerTalks, host Bill Calkins is once again joined by Bryce Anderson, sales manager for The HC Companies. Bryce is a 28-year industry vet with experience in a wide range of roles from greenhouse production and distribution to retail and even manufacturing. He's been a head grower and production manager, as well as garden center manager. He also brings experience in sales and operation management. He says his skills have evolved over the years to include water, media, nutrition management and he has a particular focus on crop quality. That wide range of skills and experience should make this discussion particularly interesting – Product Differentiation is Critical to Your Value Proposition.
Following up on the previous episode focused on pricing, Bryce and Bill spend some time on ways and reasons to differentiate. They begin by highlighting how critical it is for growers to move toward product uniqueness and away from falling into the commodity trap. Bryce shares his perspectives on how to navigate a marketplace of choices and find products that are truly different. He spends time on the costs required to create difference but even more time on the cost not to differentiate. They kick around the question if differentiation strategies should fall on the grower or retailer (or both). Bryce wraps up the podcast with final thoughts on creative ways to elevate a product mix and grab attention as a wholesale grower. This is a fantastic discussion of a very important topic. Throw in your earbuds and open your mind to some fresh thinking.
Resources:
Learn more about The HC Companies and their range of industry-leading horticultural containers: https://hc-companies.com 
Continue the conversation with Bryce Anderson via email: banderson@hc-companies.com
Visit the GrowerTalks Magazine Website: https://www.growertalks.com/ 
BE SURE TO SUBSCRIBE TO THE TECH ON DEMAND PODCAST ON ANY MAJOR PODCAST PLAYER SO YOU NEVER MISS AN EPISODE – iTunes, Spotify, Google, Stitcher and more.