Episodes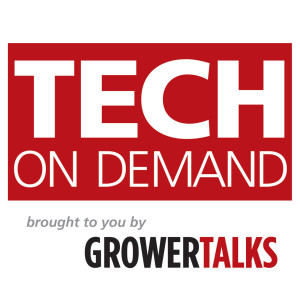 Thursday Sep 15, 2022
Thursday Sep 15, 2022
Host Bill Calkins is joined by Andrew Britten, a greenhouse and nursery technical expert with a wide range of experience from large-scale production and propagation to technical services and even sales of foliage and tropical plants. He's been a head grower, young plants manager and production manager at some of the largest and most well-respected operations in North America. Interestingly, Andrew was GrowerTalks' Young Grower Award winner back in 2005.
Andrew joins the podcast again to discuss the most common diseases you might encounter when finishing tropical and foliage crops across North America. He goes one by one through more than 10 diseases, sharing causes, how to identify and finally, control strategies.
The goal with this podcast is to help you produce your best crops ever and send clean, healthy tropicals and foliage to market. If you haven't listened to the previous podcast covering insect identification and control on tropicals, jump back in the archives and check it out.
Throughout the podcast, Andrew and Bill reference photos and slides, which you can find at: https://www.slideshare.net/bcalkins/tech-on-demand-preventing-and-managing-disease-on-tropical-plants
BE SURE TO SUBSCRIBE TO THE TECH ON DEMAND PODCAST ON YOUR FAVORITE PODCAST APP SO YOU NEVER MISS AN EPISODE!