Episodes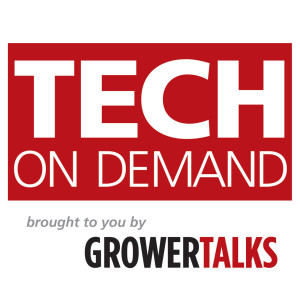 Tuesday Mar 23, 2021
Tuesday Mar 23, 2021
Tech On Demand: Sustainable Growing Solutions Can Pay Off Bigtime
In this episode of Tech On Demand brought to you by GrowerTalks, host Bill Calkins is joined for the third time by Bryce Anderson, sales manager for The HC Companies. In this episode, they tie a bow on a three-part miniseries that started with pricing, moved to adding value and now wraps up with a more specific and action-oriented look at how sustainable packaging can create multiple payoffs. Bryce is a 28-year industry vet with experience in a wide range of roles from greenhouse production and distribution to retail and even manufacturing. He's been a head grower and production manager, as well as garden center manager. He also brings experience in sales and operation management. This diverse skill set makes him a perfect guest to cover our topic du jour – Sustainable Growing Solutions Have Far-Reaching Payoffs.
This time, Bill and Bryce dig into how sustainable products fit perfectly into current (and shifting) consumer wants and needs. Bryce characterizes current market demand, as well as grower attitudes towards products that are not only good for the Earth but also fit seamlessly into modern greenhouse production scenarios. Next, the guys address costs and how sustainable products may be more expensive but the payback is greater. They close the discussion with a conversation about mindset changes and exactly why these new products should not be lumped into the general product mix, but instead called out as just that – new. Bryce ends our three-part podcast by sharing some thoughts on why now is the time to take some baby steps and test the waters with new sustainable products. After sharing his insights on pricing and differentiation, as well as a clear tactic, hopefully the story is pretty clear. Now is the time to embrace change and build your business for the future.
Resources:
Learn more about The HC Companies and their range of industry-leading horticultural containers: https://hc-companies.com
Continue the conversation with Bryce Anderson via email: banderson@hc-companies.com
Visit the GrowerTalks Magazine Website: https://www.growertalks.com/
BE SURE TO SUBSCRIBE TO THE TECH ON DEMAND PODCAST ON ANY MAJOR PODCAST PLAYER SO YOU NEVER MISS AN EPISODE – iTunes, Spotify, Google, Stitcher and more.